Evoke is a hands-free facial remodeling device that contours and tightens the lower face and neck. Evoke face treatment reverses aging symptoms of jowling and skin laxity as it effectively reduces fat and tightens the dermal tissue.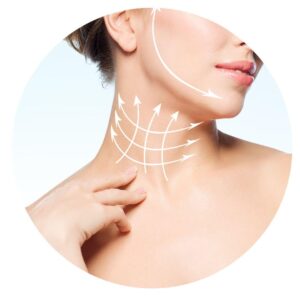 The signs of aging can be most evident on the face and neck. The slower production of collagen and elastin, along with genetics and environmental factors, lead to the formation of lines and wrinkles, sagging skin, and an aged appearance. 
Fortunately, there are non-surgical, non-invasive treatments that can help restore a more youthful facial appearance. One game-changing device for skin tightening and facial remodeling is Evoke. This innovative device counteracts aging effects, remodels your facial profile, and defines a more youthful jawline.
The treatment safely delivers thermal energy into targeted areas without damaging the surrounding tissues. Evoke has no lasting or significant side effects. You might experience mild redness after a treatment session, but that will typically go away within a few hours.
What to expect when you come in for an Evoke Treatment
When you arrive, you will be asked to fill out a consent form and have photos taken before your treatment begins. To prepare the area, the skin is cleansed with alcohol and ultrasound gel is then applied to the skin. The treatment is done by applying a headset, neck applicator or both, which contain the bipolar radiofrequency electrodes. The device gradually heats the tissue and holds it at therapeutic temperatures while continuously reading your skin temperature to assure it does not go above or below the target temperature. You will feel warmth during the treatment similar to a hot stone massage. Treatments take 30-60 minutes to complete and require no downtime.
Does Evoke get rid of cheek fat?
Evoke is suitable for patients who are concerned with fullness in the cheeks or submental (double chin) area and those looking to tighten or define their jawline. It is a safe and effective procedure that can be used on all skin types and skin tones.
Does Evoke help jowls?
Evoke works to help reduce jowls using radiofrequency energy to reduce subcutaneous fat, underlying tissue, and facial muscles.
Below are 5 reasons you will benefit from an Evoke procedure:
It Targets a Common Problem Area
The cheeks and jowls are two areas of the face where signs of aging become visible sooner in many patients. The loss of collagen and elastin contributes to hollowing in the midface and sagging skin along the jawline. These symptoms cannot be sufficiently addressed with exercise or topical treatments in most cases. 
Evoke's applicators are put on the face and tightened for a secure fit, allowing the device to target these problem areas and deliver a precise treatment. As RF energy is delivered into the lower dermal tissue, the skin becomes firmer and smoother from the inside out.
No pain, anesthesia or downtime
While there are many treatment options to rejuvenate the face, only a few treatments are as comfortable as Evoke. Unlike other devices that may require numbing cream on the treatment area prior to the procedure, Evoke treatment involves no anesthesia or topical numbing. Most patients report the skin feeling mildly warm and having a sensation of contractions on the treatment areas that are similar to those experienced during a facial massage. 
It is a hands-free treatment
Evoke is a hands-free facial remodeling platform made by InMode for the cheeks and neck. The patient wears a specially designed face contouring device, while a series of fully programmable, hands-free applicators deliver bipolar radiofrequency (RF) energy to the target problem areas such as the lower cheeks, jowls, jawline, and upper neck. 
Its no-touch design makes it a convenient procedure that reduces patient-physician contact during a session. Patients can relax during their treatment and return to their daily activities immediately following their session. 
It is fully customizable
Evoke facial remodeling delivers RF energy according to the precise intensity, depth, and duration appropriate for your specific facial anatomy, creating a customized treatment tailored to your individual needs. You get just the amount of correction to address your concerns – no more, no less.
With its A.C.E. (Acquire, Control, and Extend) technology, no area gets treated insufficiently or excessively. All of your tissue in the treatment area receives the necessary skin-tightening RF energy as needed for the safest, most effective, and natural-looking results. 
It is Safe for All Skin Types
The Evoke system utilizes a color-blind radiofrequency technology, making the non-surgical face contouring platform safe and effective on all skin types and skin tones. Because the radiofrequency energy goes deep beneath the skin's surface, there is no risk of damaging the outer dermal tissue during the procedure.
Schedule a face remodeling consultation today
If you desire to turn back the clock on aging and regain youthful cheeks and a more sculpted neck and jawline, Evoke therapy may be right for you. We can discuss your facial sculpting treatment options with you, and will customize the best treatment plan to suit your needs and aesthetic goals. Contact our office in Oakville schedule a consultation.