Eyebrow Microblading Oakville
Eyebrow Microblading Clinic Oakville
The Secret to Perfectly Sculpted Eyebrows. This innovative technique involves using a specialized pen to create fine, hair-like strokes that mimic the appearance of natural brow hairs.
Microblading is a popular semi-permanent makeup technique that mimics the appearance of real eyebrows. It involves using a small blade to deposit pigment into the skin, creating hair-like strokes that give the illusion of fuller and more defined brows. This procedure is perfect for those who want to enhance their natural eyebrows or have sparse or uneven brows.
So what sets this treatment apart from other eyebrow treatments like tattooing or threading? Unlike these methods, microblading creates a more natural-looking result that's tailored to your unique facial features. It's also semi-permanent, meaning you won't have to worry about undergoing a touch-up every few weeks or months. Contact us for a free consultation
What should I do before procedure?
If you have an ideal shape and colour in mind, bring a few reference photos with you to your appointment. You may fill in your eyebrows as you normally would so we can take into consideration the shape you desire. If you regularly get your eyebrows shaped, waxed, threaded or tinted, please do so at least 7 days before your appointment. If there are any stray hairs that fall outside of our final shape, we can remove them. If you plan to go on a vacation, it is recommended to plan your trip a minimum of 10 days after the procedure. Clients are to avoid any blood thinning medications for a minimum of 72 hours prior to their appointment including Advil (Ibuprofen), Aspirin. Fish Oils (Omegas), turmeric, Vitamin E and Niacin should be avoided for two weeks prior to treatment. Do not consume alcohol the day before or the day of your treatment. Avoid all forms of caffeine the day of your appointment including coffee, tea and caffeinated soft drinks. If you have been on prescription Accutane in the past, you MUST wait at least one year before considering this procedure. It is highly recommended that you avoid using TANNING BEDS for 14 days after your procedure. If you show up for your appointment with a sunburn, you will need to reschedule and will forfeit your deposit. As your skin exfoliates from a sunburn, it will take the pigment with it. Please ensure you do not have any compromised skin in the brow area including acne, psoriasis or skin rash. Microblading is not recommended for those who have a history of keloid scarring. If you have Botox or other neuromodulator treatments, please ensure you wait at least two weeks after your treatment.
Does eyebrow microblading hurt?
A highly-effective, topical anesthetic cream and gel are used for numbing before and during your procedure. Pain threshold levels vary from person to person and every effort is made to ensure you remain comfortable for the entirety of the procedure. Having this service performed during your menstrual cycle may increase discomfort during your procedure. If you are a frequent smoker, the topical anesthetics used during the treatment will not last as long. If you have been diagnosed with Fibromyalgia, be aware that this may affect your sensitivity tolerance to the procedure.
How long does microblading Oakville last?
Microblading treatments are considered semi-permanent and will not wash off, however, they will fade over time and may need to be refreshed every 1-3 years. Frequency of sessions depends on a number of factors including: the pigment colour used (lighter colours fade faster), lifestyle (sun exposure), use of skincare containing Retinol , glycolic acid, etc., skin type and skin treatments. Please note that final results CAN NOT be guaranteed as each unique skintype will hold pigments differently and break down at different rates. We will re-evaluate how your skin has received the pigment at your second session and make any changes necessary. Multiple sessions are normal for cosmetic tattoo procedures, with each new procedure generally requiring a minimum of 2 visits. Your second session can be booked no sooner than six weeks after the initial appointment. Additional sessions will be charged according to our current pricing.
Factors that will affect tattoo results:
Sun exposure: The sun will extremely soften the look of your tattoo, so sunblock should be used (once healed) to prolong your enhancement. The regeneration of skin cells: The longer the regeneration takes, the longer the pigment holds. The speed at which the skin absorbs the pigment: The slower the absorption, the longer the pigment will hold. The choice of colour: Some colours fade quicker than others, e.g. a blonde colour will fade quicker than a dark brown colour. The area of treatment: Enhancements to the face, for example, fade more quickly due to constant exposure. Bleeding during the procedure: Any bleeding during the tattooing procedure will reduce the amount of pigment absorption. Alcohol and certain medications act as blood-thinners and should not be taken prior to and following your appointment.
Only single use, disposable needles and supplies are used. This means that each set-up for each new client is discarded safely afterwards. The station is thoroughly disinfected before opening and after each procedure throughout the day.
How many treatments are required?
For most clients, one session and a touch up session are usually needed, approximately 8 weeks apart.  With most procedures, the colour looks dramatically lighter after the first week. Some clients prefer this, while others opt for a bolder look. At the touch up session, we will assess the colour retention and make adjustments as necessary. Everyone heals differently and at different rates. If your cosmetic tattoo does not heal perfectly after the first session, do not worry! We can always go darker and add more density at your next appointment. 
Will My Eyebrows Be Dark After Microblading?
After the procedure, it's normal for your eyebrows to appear slightly darker or swollen for the first day or two, but most clients can resume their daily activities right away. During the initial 7-10 days, your new color will be more pronounced and defined. As the week progresses, it will gradually lighten as your eyebrows heal and any scabs fall off. Between 4-7 days, they will begin to shrink, although this can vary depending on the individual and their skin type. While the healing process can be as quick as 9-14 days, we recommend allowing a full month for complete healing and to ensure the pigment settles before finishing with the perfecting touch up for your eyebrows.
Yes, a touch-up session is usually recommended 4-6 weeks after the initial procedure to perfect the shape and color. Touch-ups may also be needed every 1-2 years to maintain the desired look.
What is the aftercare process like?
After the procedure, use a gentle cleanser and apply a thin layer of an ointment or healing balm to keep the eyebrows moist. Avoid makeup, sweating, and direct sunlight for at least a week.
Colour Lift Removal is a gentle yet concentrated hypertonic saline solution for tattoo removal. 
When the solution it's implanted into skin, the area dries out.  If the skin contains tattoo pigment this will dry out too, lifting and removing the pigment during the skins natural healing process. Unlike laser removal, this process does NOT  have risk factors like hair loss, hyperpigmentation and hypopigmentation of the skin.
Benefits Include :

Removal of colour that has become pink, orange, violet, blue, etc. from previous tattoo.
Will not affect natural brow hair like laser hair removal.
No risk of the skin pigment loss you can experience with laser removal.
Lightens faded permanent makeup ready for microblading or hair strokes.
Lifts pigment colour from saturated, poorly shaped or very dark brows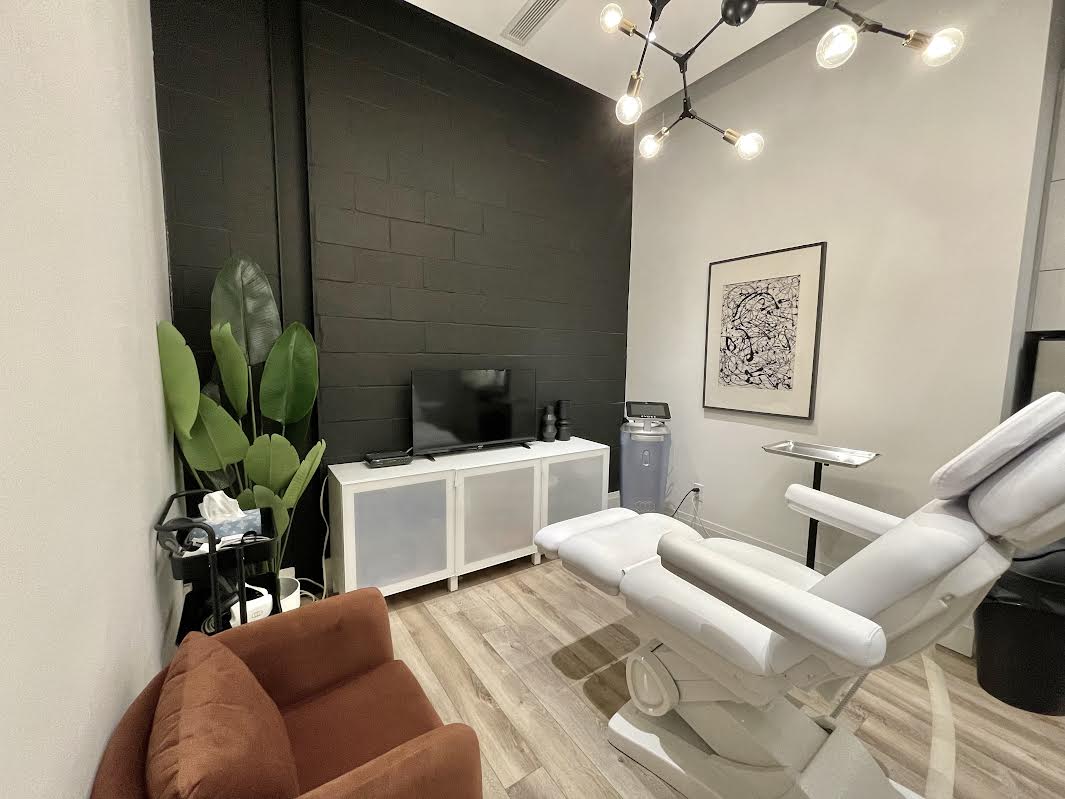 Book a Consultation
Our unique and extensive consultation process is at the core of our success. The time and care we take in our diagnostic assessment, the concerns and characteristics we record, and our systematic evaluation of every single client's needs are second to none. By fully considering your lifestyle and your genetics can we devise a strategy to achieve optimum results; now, and for the future.